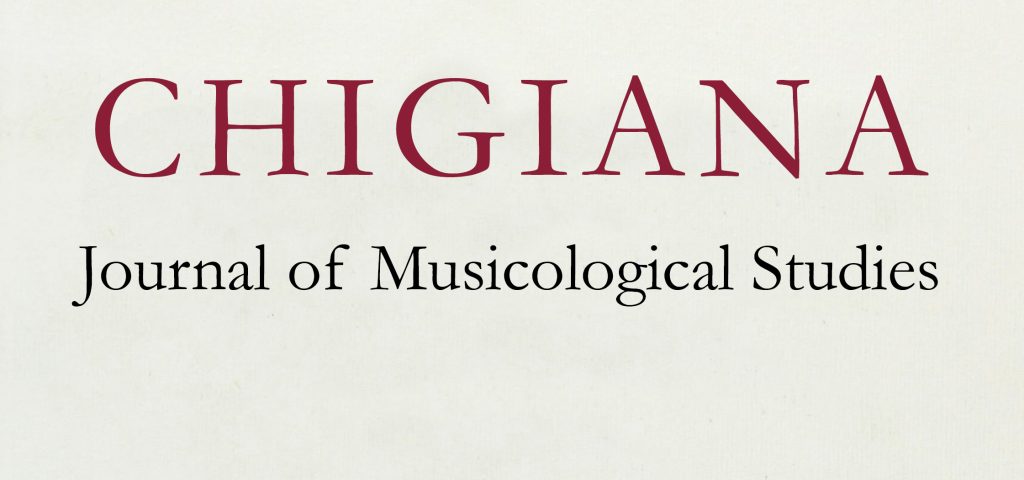 Of the many transits: The intercultural dialogue in Luciano Berio's music
English: Berio's artistic thought and music writing have always been in contact with many musical practices of oral tradition originating from European folklore and from extra-European areas of ethnological interest. This dialogue can be observed throughout his work, since the very beginning, and had a deep influence on early and minor works as well as in creations regarded as central and emblematic. The ways of the dialogue have been constructed using greatly varied procedures with relation to the material, documentation, and informants he used and can be rapidly outlined as: a) detection of local combinatory techniques, mastering of the techniques discovered in this way, with various criteria of adaptation, transformation, and absorption into structures of his own, considerably far away from the original texts (such as Central African polyphonic procedures in Cora); b) detection of particularly connoting, original, and appealing melodic profiles taken from vocal repertoires mainly built on genres of the song kind, partial mould or reinvention in a chamber music context (traditional European, American and Central Asian melodies: Folk songs, E si fussi pisci); c) detection of melodic profiles representative of local cultures (coherent and homogeneous) and of localized practices, vocal-instrumental translation, mould of melodic incipits and subsequent operations of transformation and variation (Voci, Naturale); d) detection of performance practices built on procedures of varied iteration or extemporaneous combination of elementary grammatical features, absorption of such procedures, and translation of the same in sweepingly dramaturgical contexts (Questo vuol dire che…, Outis). The survey of the sources and interlocutors of the dialogue that Berio is interweaving offers an inventory that is also variable and manifold: a) musical transcriptions, made and published by scholars; b) sound sources gathered on the field and recorded on disc; c) poetic texts published by local collectors; d) ethnological and anthropological essays; e) conversational interaction with personalities involved in field research or coming from regions of particular musical interest and fascination.

Italian: Il pensiero e la scrittura musicale di Berio sono stati in costante dialogo con le musiche di tradizione orale, rappresentative di regioni euro-folkloriche o provenienti da aree extra-europee di interesse etnologico. Il dialogo ha attraversato tutta la sua produzione, fino dagli esordi, e ha avuto riflessi profondi per lavori giovanili e di mi-nore impegno come per opere considerate centrali ed emblematiche. I modi del dialogo si sono esplicati con procedure assai diverse, in relazione ai materiali, documenti e informatori utilizzati, e possono essere rappresentati sinteticamente come segue: a) individuazione di tecniche combinatorie locali, assunzione delle tecniche individuate, con molteplici criteri di adattamento, trasformazione e trasferimento in assetti propri, assai lontani dai testi originali (procedimenti polifonici di matrice centro-africana in Coro); b) individuazione di profili melodici particolarmente connotanti, originali e 'attraenti', tratti da repertori vocali costruiti soprattutto su generi di 'canzone', calco parziale o re-invenzione in contesto cameristico (melodie tradizionali europee, ameri-cane e centro-asiatiche: Folk Songs, E si fussi pisci)-, c) individuazione di profili melodici rappresentativi di culture locali – compatte e omogenee – e di pratiche circo¬scritte, 'traduzione' vocale-strumentale, calco degli incipit melodici e successive operazioni di trasformazione e variazione (Voci, Naturale)-, d) individuazione di pratiche performative, costruite su procedure di iterazione variata o di combinazione estemporanea di tratti grammaticali elementari, assunzione di tali procedure e 'tradu-zione' delle stesse in contesti latamente drammaturgici (Questo vuol dire che…, Outis). La ricognizione sulle fonti e sugli interlocutori del dialogo intessuto da Berio pro-pone un inventario anch'esso variabile, con presenze multiformi: a) edizioni a stampa di trascrizioni musicali operate da studiosi; b) documenti sonori raccolti sul terreno e pubblicati in disco; c) testi poetici pubblicati da raccoglitori locali; d) testi saggistici di interesse etnologico e antropologico; e) interazione discorsiva con personalità impe-gnate nella ricerca sul campo o provenienti da territori di particolare interesse e sug-gestione musicale.